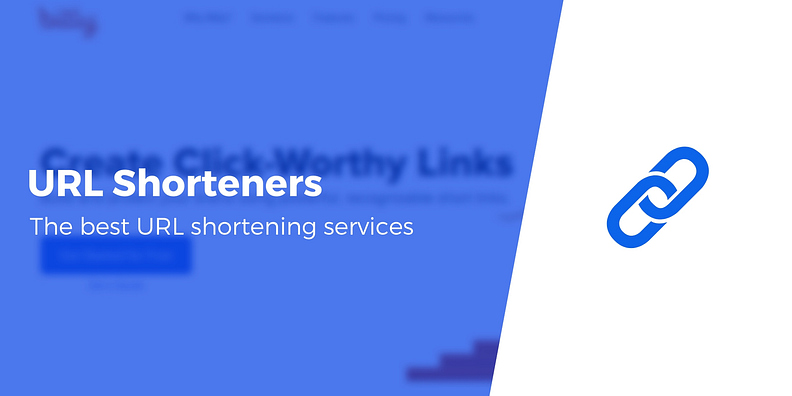 Admin
February 26, 2021
Looking for the best URL shortener to shrink your site's links, analyze clicks, add UTM tags, and/or help you use retargeting?
In this post, we've collected six great services for all use cases. From free URL shortener services to business-focused premium plans, you'll find a great option on this list.
What is a URL shortener?
A URL shortener is an online tool that takes a long, hefty URL and provides a shortened URL that sends the user to the exact same spot. Some URL shorteners can also help you track and manipulate those links, with features like click analytics, UTM parameter support, and retargeting.
URL shorteners help you create shorter, more aesthetic URLs, as well as benefit from those tracking and retargeting features.
Six best URL shortener services compared
Shortenly.net is useful for popular social media as a free management URL tool. Shortenly.net has a specific feature that lets you shorten your links to use on social media or in other places.
If you are already a Shortenly's user, you can access your panel from the dashboard to manage the tracking. From there, you'll also be able to view analytics for your shortened URLs.
Features
Custom URL
URL Performance metrics
Unlimited Clicks
No-expiry URL
Link retargeting
Connect custom domain
Audience intelligence
Trackable short links
Mobile platform supportive
Rank monitoring
Fully-responsive
API for developer
Demonstrate social ROI
Price:
Shortenly.net is included with both FREE and Premium plans at cheapest pricing. Actually, you can shorten URL for free without creating a account, but if you create a free account you can manage many hidden features.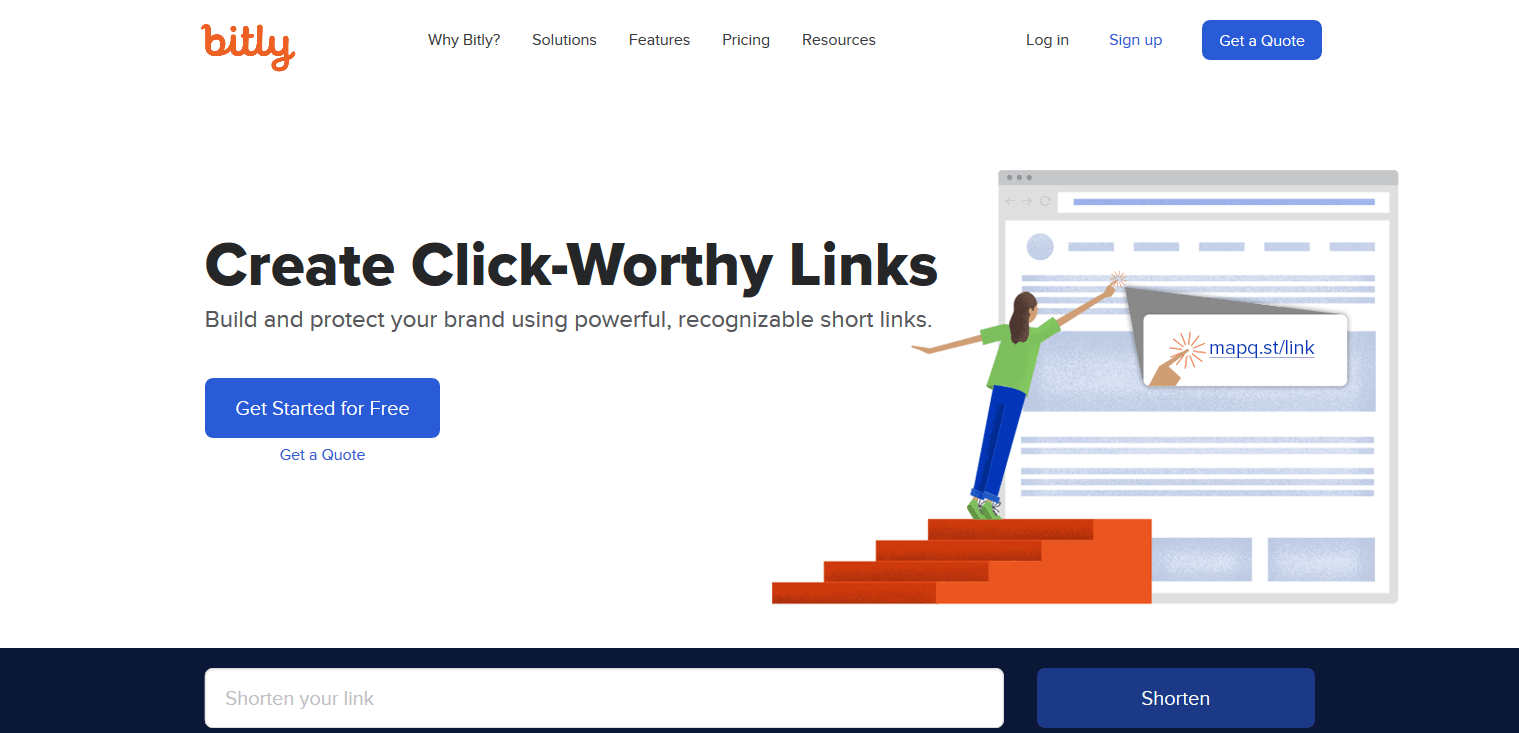 Bitly is a powerful (and popular) tool for shortening URLs.
The free service lets you shorten links using the Bit.ly domain name, while the premium service lets you use your own custom domain name.
Bitly has features like link retargeting in the paid version. You can track individual links and get related analytics on your dashboard. It even measures your marketing campaign performance for a specific location.
Features
Connect custom domain
Analytics dashboard
Audience intelligence
Custom URL
Integration with Zapier and TweetDeck
Fully-responsive
Cloud-hosted
URL retargeting
Price:
Bitly offers its basic service for free. After that, premium plans with a custom domain and more features cost $35 per month with monthly billing or $29 per month with annual billing.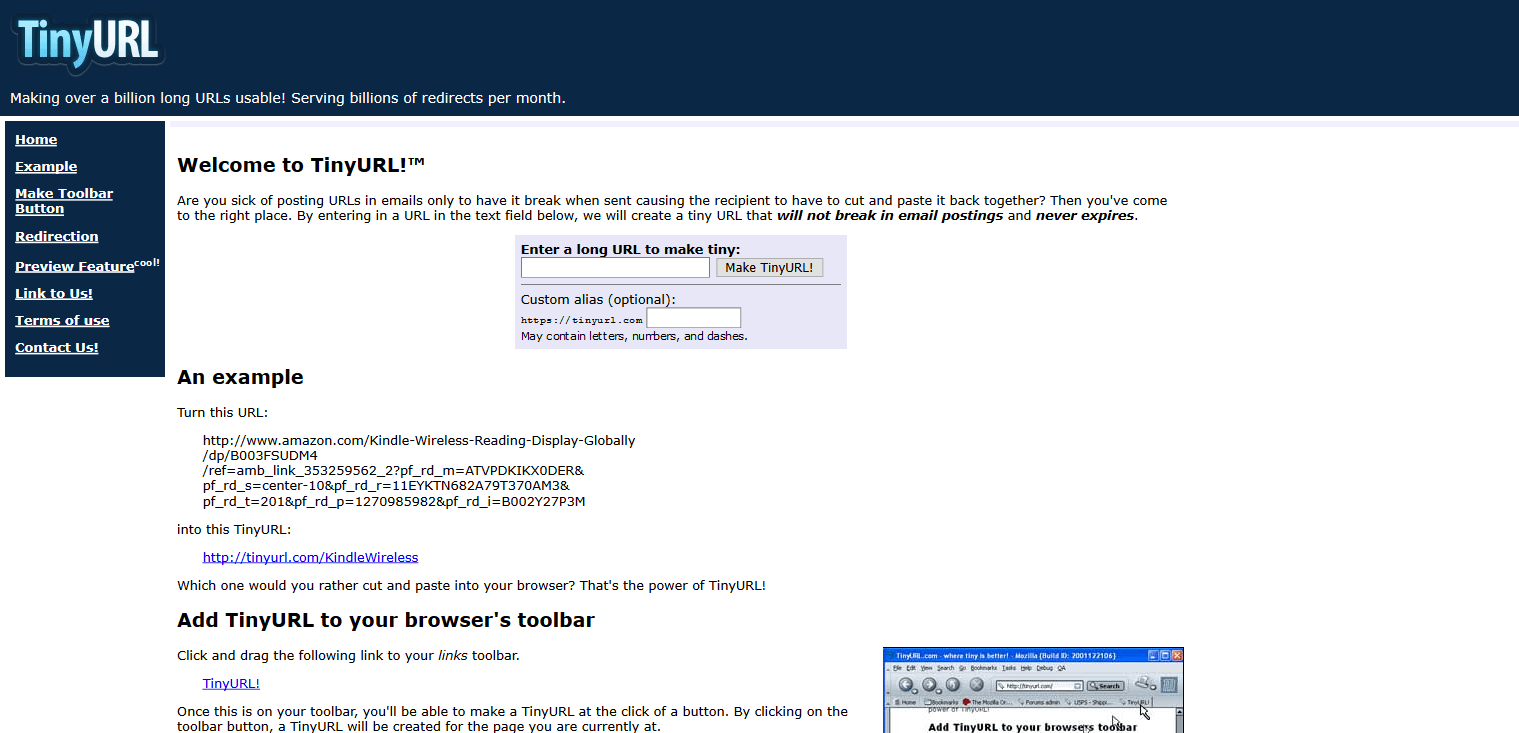 TinyURL is the best URL shortening solution for anonymous use. Unlike Bitly, you can customize the string that appears in your shortened URL.
For example, you could create https://tinyurl.com/tiblog, rather than something random like https://tinyurl.com/y3xvrfpg.
TinyURL is completely anonymous – no need to register an account. The downside, though, is that it doesn't offer any analytics or other advanced features.
Features
Fast redirection
Option to customize the shortened URL
Anonymous usage
Easy-to-use
Price:
TinyURL is 100% free.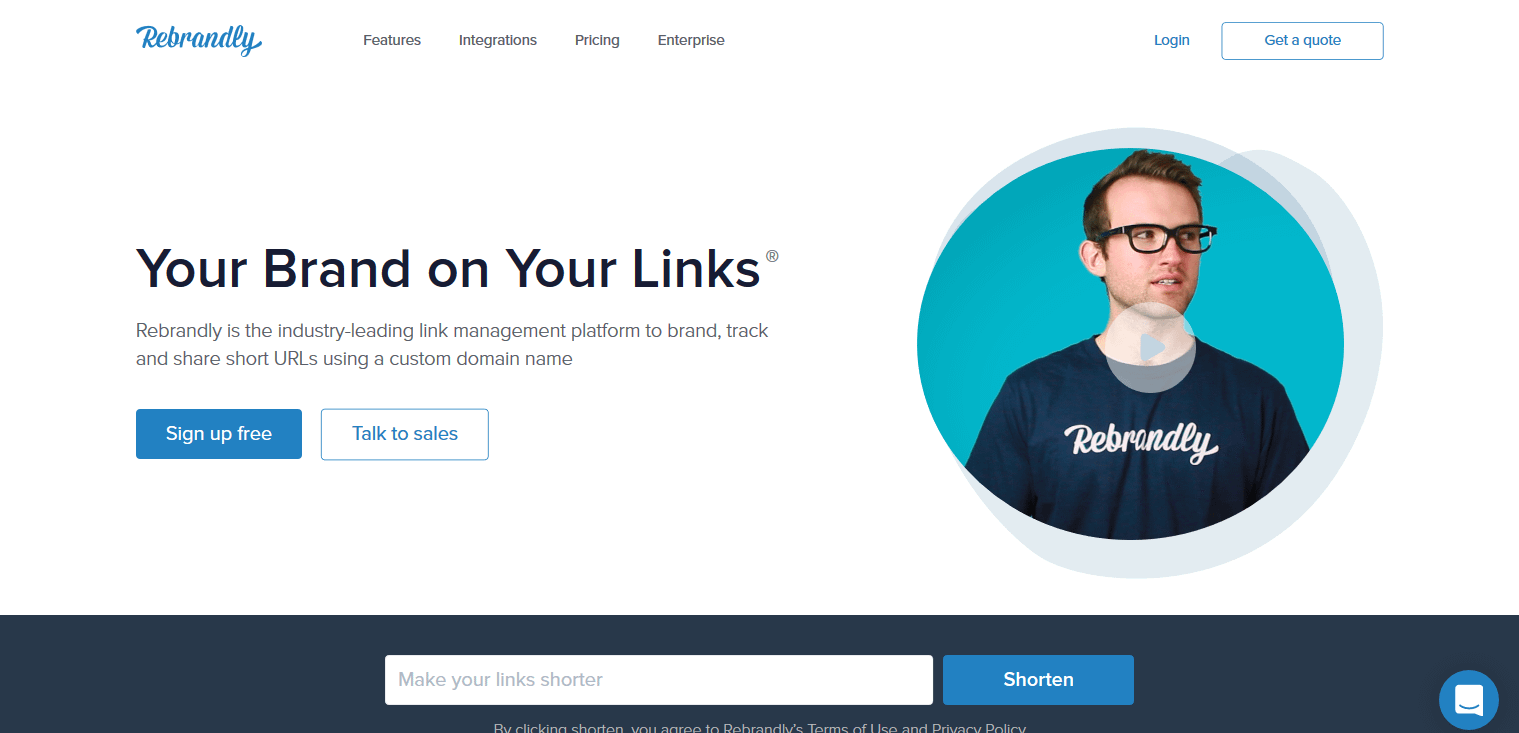 Rebrandly offers advanced URL shortening technology packed with tons of features. You can use this digital tool to create custom/branded (and shorter) memorable links. You can use this URL shortener for both building and sharing short links across various social networks.
Rebrandly also lets you create separate workspaces and teammates, which might make it the best URL shortener for teams, and it also includes advanced features like link retargeting support.
Features
Bulk link creation
UTM parameters
API access
100+ app integrations
Emojis on short links
GDPR-compatible
Rapid auto-scaling servers
Private reporting
Custom reports
Click tracking
Price:
Rebrandly offers a limited free plan that supports 500 links and 5,000 clicks per month. After that, there are various paid plans:
Starter – $29
Pro – $69
Premium – $499
Enterprise – talk to sales
Another unique contender in our best URL shortener list is T2M. You will love the usability of this link shortening solution. To make the URL tracking easier, they have two separate dashboards. One is for location analytics and the other is for device or platform. It even generates a QR code along with the short URL.
T2M has dedicated instances, meaning the server response will be 100% dedicated to a single user. This ensures fast redirection to your destination URL. You can create short, branded URLs that will get more clicks or even decide where the link should work.
The paid plan will let you create more advanced URLs, like a password protected URL and a vanity URL. It's a perfect choice for online businesses who want flexible, short URLs.
Features
No spam policy
Personalized short URLs
Full-scale analytics
One-click domain mapping
Bulk URL creation
Unlimited API
No-expiry URL
Dedicated instance
Auto-generated QR code
CSV Import
Price:
If you just want to use the basic T2M service, T2M offers a basic tier for a $5 one-time free. The $5 is just for verification and to cut down on spam – there are no ongoing fees.
After that, there are four ongoing plans, which use monthly or annual billing:
Standard – $9.99 per month
Pro – $29.99 per month
Premium – $89.99 per month
Dedicated – talk to sales
You'll also get three months for free if you pay annually.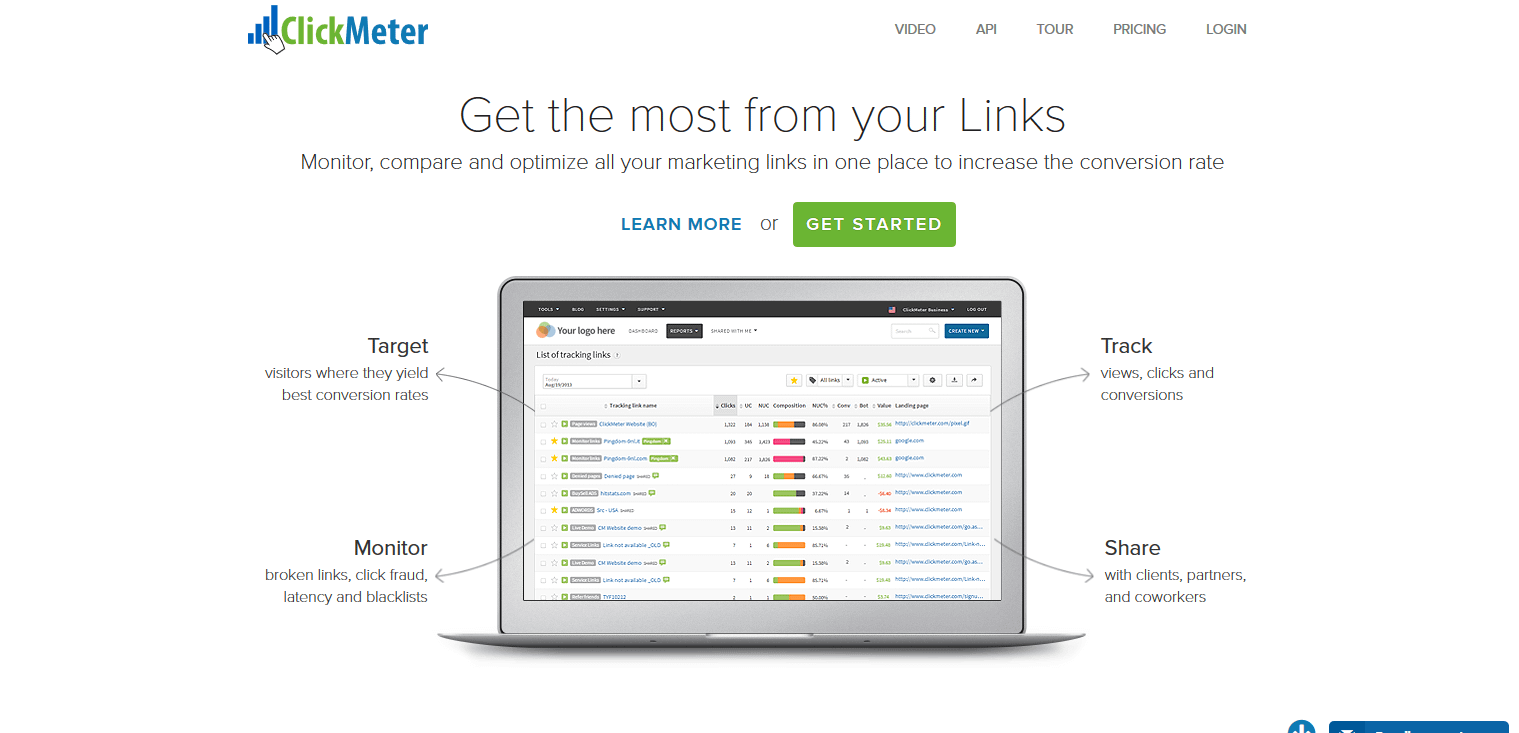 ClickMeter is less of a URL shortener and more of a click-rate optimizer. There are many features to help you create a URL with tons of clicks. ClickMeter is more for advertisers and agencies who use Google AdWords or other advertising networks.
It works like a charm for webmasters with a global audience and multiple languages. In addition to location-based targeting, you can easily integrate with popular content management systems like WordPress and Shopify. Clickmeter's dashboard provides an in-depth analysis report.
Features
Multilingual support
Geotargeting
URL encryption
Bulk link creation
Branded tracking links
Multiple API keys
Google Analytics UTM support
Device-based targeting
Clone links
Price:
ClickMeter has three premium plans, all of which offer a 30-day money-back guarantee:
Medium – $29 per month
Large – $99 per month
X-Large – $349 per month
Conclusion
Using a URL shortener service can help you create cleaner, more user-friendly URLs and also track and analyze how those URLs perform.
If you are sharing posts, get the best URL shortener for your blog. Here's an outline to help you find the ideal URL solution: