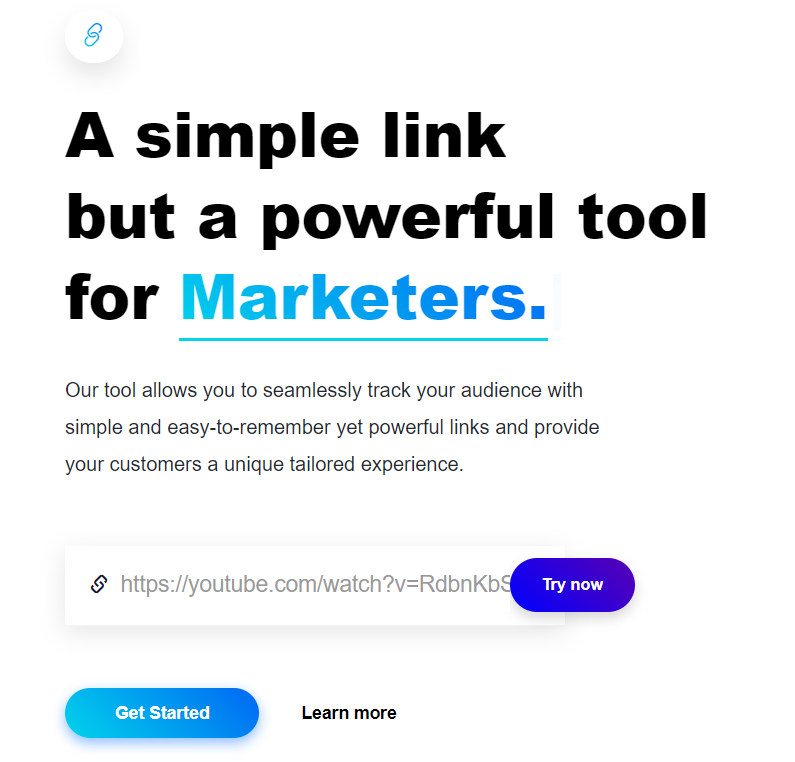 Admin
February 22, 2021
Ever since Google URL Shortener shut down in March 2019, the internet has been searching for the next best option. There's no single correct answer, as the right service for you ultimately depends on your needs and expectations. There are simple and fast free shorteners for use in a hurry, shorteners with comprehensive dashboards and tracking tools for brands, and even URL shorteners you can host on your own website.
To help you find the best URL Shortener services, we've compared the leading providers and how they stack up against one another.
There are 10 best URL Shortener services
What makes a great URL shortener?
URL Shorteners make sharing long links more manageable. Say you want to provide a link on a business card, in an advertisement, or in another situation where hyperlinking isn't ideal. A shortened URL takes up less space, is more memorable and keeps your text tidy.
Another use case for shortened URLs is to create variations of a single link so you can easily track source traffic. For example, you might create one short URL to use on Twitter, a different one for Facebook, and a third to be used in an email newsletter.
Many URL shortening services offer comprehensive tracking tools that allow you to see who is clicking your link, where in the world they are located, and what language they speak. You can use this information to discern click-through rates, which browser your audience prefers, and what devices your content is accessed from. Some services even allow you to bring your own custom domain name for creating your own branded service.
There are many free URL Shorteners. And most URL shorteners have a free tier of service, but you often have to pay for added features, such as metrics and customization. The URL shortening services that made the cut for this list are reliable and easy to use, and each one stands out as the "best" for a special reason.
Interested in doing even more with your URL shorteners? Check out our tips for how to use automation to track them, send them, and stay on top of performance.
---
Best URL Shortener for personal use and small business owners
Shortenly is a full-featured URL Shortener service that can be used to not only turn long URLs into short ones, but also track the traffic coming from your links. Its dashboard shows trending links and general statistics, while an analytics page lets you dive into traffic by device, location, and referrers. You can also drill down into clicks by the time of day. Tags, which you can add to your shortened links, let you view your link traffic in new and custom ways and are perfect for tracking and coordinating campaigns.
Shortenly offers four tiers of paid plans to give small businesses, teams, and enterprises a variety of options based on the number of links you need to generate and track. Free account holders can generate 1,000 links, tracking with Unlimited Clicks per link, and create a custom alias to make branded links. If you're a business in need of a full-service URL shortener and Bitly's enterprise-grade plan seems like overkill, then Shortenly is one of your best options.
Shortenly price: Free Plan available; Professional Plan from $4.99/month, Enterprise Plan from $9.99/month with 7-Day Free Trial
Automate Shortenly with Shortenly's Zapier Integrations.
Best all-around URL shortener
Bitly is a full-service, business-grade URL shortener. If your needs are modest, you can use it anonymously to shorten long URLs and be on your way. But Bitly really stands out for its business offering. Part of the appeal is that Bitly is so simple and easy to use. It has a comprehensive dashboard where you can track over 20 real-time data points, including the location of your visitors, organic shares, and more. Tools for tracking campaigns are easy to use as well.
With Bitly's free limited account, you can customize the back-half your shortened URLs, track click rates, and get information about your top referrers, but only for 1,000 non-branded links per month. It's a generous free plan and could very well be adequate for some small businesses. The Basic plan provides a free custom domain, allows you to create 1,500 links per month, and shows more data about who clicks your links. If you need more from Bitly, there's an additional custom pricing tier for enterprise users.
Bitly is the best URL shortener for large businesses looking to brand and track links, and it's a great choice for small businesses that want to generate short URLs and follow their stats for a modest number of campaigns.
Bitly price: Free plan available; paid plan from $35/month
Automate Bitly with Bitly's Zapier integrations.
Best URL shortener for creating branded links
While Rebrandly is a URL shortener much like any other, its appeal is slightly unique. Rebrandly believes that brands, whether it's a product or a person, get value out of customizing links to content that references them from all over the web. Their free plan offers five custom domains, the most of any on our list. For example, Bob Vila could customize the link to his Wikipedia entry from en.wikipedia.org/wiki/Bob_Vila to BobVila.Tools/wikipedia. A link to one of his books on Amazon could be BobVila.Tools/amazon-book. Vila can use these links on his own site, business cards, or in advertisements. Rebrandly includes tools for tracking the popularity of each link and automatic QR code generation, too. If Rebrandly is more than you need, is.gd works for QR generation as well.
Rebrandly price: Free plan available; paid plan from $29/month
Automate Rebrandly with Rebrandly's Zapier integrations.
Best URL shortener for minimal self-hosting
Polr is an open-source project that allows people with the technical know-how to host their own URL shortener. It's available through the Polr project page and from GitHub. You can use the tool as-is or fork it if you have the programming abilities to do so. (If you're so inclined, it's written in PHP and Lumen, using MySQL as its primary database.) Though similar to Yourls, another free and open-source URL shortener, Polr has a slicker look and is designed with a modern and minimalist feel. If you just want to test out the basic interface, Polr offers a demo page.
Polr price: Free
Best URL shortener for quick, anonymous use
Free URL shortener TinyURL has been in the game since 2002, and for good reason. It's a usefull tool for when you're in a hurry and need to create a short link that will never expire. TinyURL can suggest a shorter URL for you, or you can customize the result. TinyURL also offers a bookmarklet, a small piece of javascript you add to your web browser's toolbar that generates a short link from a webpage with the click of a button. It then leads you back to TinyURL where you retrieve the link. Although TinyURL is entirely free and anonymous to use, it doesn't contain any reports or information about your links and their popularity.
TinyURL price: Free
Best URL shortener for tracking links via push notifications
Hyperlink is a URL shortener with a mobile twist. Its Android and iOS apps are front and center, though it's also accessible via a Chrome extension and a web app that works in any browser. Hyperlink's unique selling point is its ability to deliver push notifications to your mobile device whenever someone clicks on one of your links. If your notifications go haywire, you can tell Hyperlink to deliver hourly, daily or weekly summaries instead. The service includes further analytics and tracking, so you can learn more about your audience, including their location.
Like most other services on this list, Hyperlink has a free plan that you can use to try the service out. You'll get unlimited links and clicks for free, though you can upgrade to premium if you want to use your own custom domain.
Hyperlink price: Free plan available; $10/month to add a custom domain; enterprise pricing available upon request
Best URL shortener for making QR codes and short URLs together
T2M is another full-service URL shortener featuring dashboards of activity and traffic tracking statistics. It has two dashboards, one for location information and one for device and platform, that are well designed and easy to read. When you spin up a URL, T2M also automatically generates a QR code—a nice touch if you need it.
T2M has a limited Basic plan that requires a one-off fee to register, plus paid subscriptions for those who need more. The free plan does not limit the number of URLs you can generate, nor how many clicks you can track. It also gives you baked-in tools for sharing shortened URLs on social networking sites. The Standard plan is well-suited for small businesses: it adds branded and vanity URLs, password protected URLs, a tool for shortening a number of URLs at once ("bulk changer"), the ability to add one custom domain, and a few additional perks. Higher-level plans include more features and increased limits on things like how many URLs you can generate each month and the number of clicks or redirects allowed per month. T2M is a capable URL shortener for businesses that want pleasing dashboards and automatic QR code generation.
T2M price: Basic plan starts at $5 (one-time fee), Standard from $9.99/month, Pro from $29.99 per month. (Higher pricing tiers and custom plans available.)
Best URL shortener for automatically creating links
When you want to automatically create and save a shortened link every time you perform a certain action, Zapier's URL Shortener is one of the best options. Formerly part of Zapier's Formatter, the URL Shortener is now its own tool with its own set of integrations. For example, every time you post a new photo to Flickr, you may want to generate a shorter link and save a copy of it to a Google Sheet. You can create a Zap (that's what we call Zapier's automated workflows) to do just that. From there on out, all you have to do is upload your images to Flickr and Zapier will do the rest.
URL Shortener by Zapier price: Free
Automate URL Shortener by Zapier by connecting it with other apps on Zapier.
Another very good option along the same lines is Ow.ly, which was once a standalone app but is now a tool within Hootsuite. You can use Ow.ly to automatically shorten a link everytime you schedule a social media update to post. It's a handy tool for a specific use case, but not as flexible as the other URL shorteners on this list.
Best URL shortener for highly customizable self-hosting
Yourls, which is an acronym for "your own URL shortener," is exactly that—a service your run on your own server. Similar to Polr, Yourls is free and open-source. With Yourls, you can choose whether your links will be public or private. It includes bookmarklets, which let you turn a long URL into a short one from your web browser in just one click. By default, the tool generates sequential URLs, but you can change it to come up with random strings instead if you prefer. There are a few traffic tracking tools as well.
Yourls was designed to be lightweight. However, if you want to expand its capabilities, you can install plugins for Yourls or build your own. While Polr takes the sharp-looking minimalist route, Yourls offers way more in terms of customization if you're willing to get your hands dirty.
Yourls price: Free
Best URL shortener for Instagram users
Shorby isn't your typical URL shortener. Rather than simply shortening a long URL, Shorby has been designed with Instagram's "one link in bio" rule in mind. Currently, Instagram creators often update their bio link with new short URLs in order to point to new content, podcast episodes, YouTube uploads and so on. Shorby hopes to disrupt this behaviour by providing a customizable short URL "profile" that can be updated. So instead of changing the short URL in your Instagram bio, you can just add your latest content to Shorby and leave the link as-is.
The service has a few other tricks up its sleeve. You can create click-to-call boxes for popular communication platforms, such as WhatsApp, Facebook Messenger, Skype, or a regular old phone number. You can also add links to web content in Blocks, which is perfect if you're a creator who uses Instagram to promote content hosted elsewhere on the web. You can even track analytics for your Shorby link, just like you would with other URL shortening services. Shorby isn't free, and how much you'll pay depends on the amount of content you want to display.
Shorby price: Basic Start plan from $9/month; add Google Analytics and advert tracking for $29/month